An Authentic School of Yoga
Our school emphasizes development of conscious awareness. Practices cultivate skillful use of body, mind, emotional and subtle aspects with the intention of Yoga.


Founders and Directors of Radiant Life Yoga, Jaina and Matthew Portwood teach classes in Minneapolis and lead retreats and trainings around the world.
They teach and write on yoga philosophy, meditation, energetic anatomy, nutrition, detoxification and herbalism for healing and vitality.
Their work has impacted students and teachers from all over the world.
Jaina L. Portwood, 
E-RYT 500
., 
C.M.T. 
Jaina has been practicing yoga since 1998 and teaching since 2002. Jaina's classes are challenging, opening and spiritually expansive. She uses pranayama, asana, nutrition, chanting, intuition and insight to take students beyond the seen world and into cosmic consciousness. She has a wealth of yoga experience cultivated from over a decade of svadhyaya (study of Self), bhakti (devotion), and has trained with yoga masters all over the country
Jaina's leadership in the RLY teacher training program includes alignment training, anatomy, biology, physiology, living foods, massage therapy, craniosacral therapy, meditation, fasting and explorations of consciousness. As a community leader, Jaina's teachings have uplifted and inspired thousands. She sees yoga as available to us at all times during the day, whether or not you we are on our mats. This integration of form, awareness and intention opens doors to experience pure presence. Yoga is to go beyond the senses, and to merge the observer, the act of observing, and the ego-thought-stream into one luminous experience of life. May every moment of your day be dhyana, and every interaction satsang.
Jaina has a love for all things beautiful. She enjoys meditation, surfing turquoise tropical waves, basking in the sun and lush green plants. She has led 200-hour Vinyasa Yoga Teacher Training to hundreds of students over the last decade, and touched many more through daily classes. She also offers private yoga study, nutrition & clinical massage therapy.
Matthew J. Portwood, E-RYT 500
Matthew is a respected yoga instructor, nutritional wellness expert and herbalist in the Twin Cities. He is committed to informing and inspiring wellbeing through practice and teaching. A practitioner since 1995 and teacher since 2002, Matthew has been blessed to serve thousands of people with classes, nutritional consultations and herbalism. Matthew's unique teaching style utilizes pranayama, bandha and meditation to guide awareness through the layers of mind and resistance to the ever present and underlying wisdom that is in each one of us.
Born and raised in Minneapolis, MN Matthew was an early advocate of yoga and living foods lifestyle in the Twin Cities. After high school Matthew was often sick and suffered from chronic ailments, which he was able to heal using nutrition, yoga and other natural & alternative methods. In doing so he discovered his calling. In the years since, Matthew has immersed himself in the art of healing using food, herbs, yoga and meditation as well as fasting. Matthew leads Yoga teacher training along with Jaina.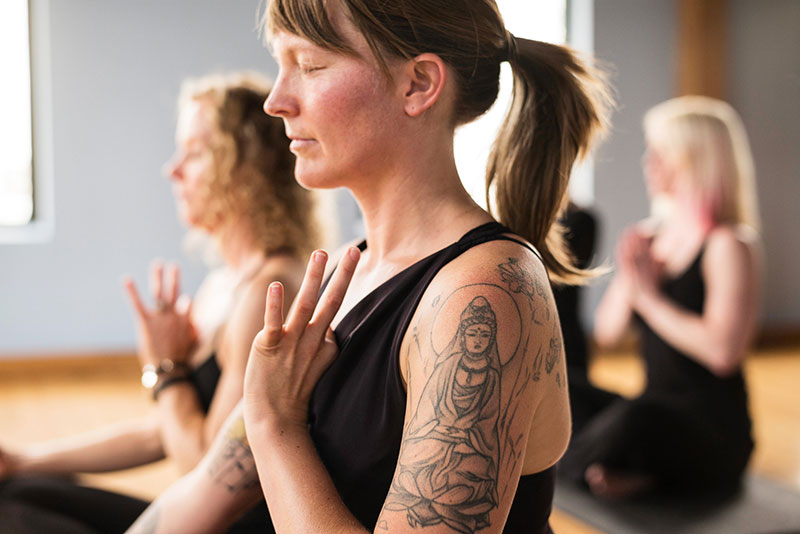 The 11 Pillars of Radiant Life Yoga

Dive deep into the foundations of yoga. Our comprehensive yoga teacher training programs are designed in accordance with the Yoga Alliance 200 & 300-hour certifications. In addition to learning to teach asana and dharma, you will embark on a healing journey of your own—through nutrition, meditation, and self-reflection. Many students enroll with no desire to teach, but want to deepen their knowledge of yoga.
Yin Yoga Teacher Training
Yin Yoga is a restorative practice that focuses on the joints rather than the muscles. This style of yoga helps your students gain flexibility, release tension and calm the central nervous system. This weekend intensive covers anatomy, hands-on adjustments, intelligent sequencing, philosophy and more. You'll leave with the confidence and expertise to lead a full 75-minute class.
Hours can be counted towards Continuing Education Credits or towards your 300-Hour Certification.